Microsoft Ignite day 1: keynote and sessions
Summary:
Keynote
With about 30.000 people in one very big room, Satya kicked off with a welcome and received a big applause. Satya started sharing current customer success stories, mainly focused on AI. His question after the success stories: How are we evolving this and how do we keep innovating? The answer is, the Microsoft open data initiative! Together with Adobe and SAP, these three companies exchange data. Data becomes more and more important and in this way, Microsoft can create a great experience for us as customers. There will be one data model for all Azure applications so that our data will no longer be in silos. Well, I must say, that's exciting news! Hopefully we will see this in action soon.
That said, Microsoft is also focusing more and more on selling an experience instead of a product (what we do as consultants for years already to our customers to be honest), but Microsoft will have more focus on this as well. Satya said that we need to transform our businesses industries, adopting the latest and greatest technologies, or
we will not survive. Also trust and collaboration is key aspect of success, Satya said.
It was an inspiring keynote, although not as inspiring as before and less announcements were given but still, great start of Microsoft Ignite!
Transform your workplace with Microsoft 365
The second session (more like a subkeynote) I attended was "Transform your workplace with Microsoft 365". Ron Markezich came on stage thanking us for our partnership.
They key announcement in this session is a new Microsoft product: Microsoft Ideas. It brings a lot of AI into your daily work. Like in PowerPoint, it suggests the design of a slide. Like if you type Seattle, it gives you images of Seattle. But also, it checks for consistency throughout PowerPoint. In Excel, this same product gives you suggestions on a whole other level. Like you fill in some countries, it suggests you to add columns with the inhabitants etc.
In Word, it's even cooler in my opinion. When you are working together in the same document, you can add tasks for another and even create tasks for yourself. For example, you type "@To Do", you add a task for yourself. Giving a description, like "Keynote", Microsoft Ideas gives you relevant documents which you can add in the document.
This is all possible, connecting with the Microsoft Graph API. Many applications are connected to this API which makes this possible. This product is going to be rolled out at PowerPoint first, later across more Office applications.
Microsoft 365 admin center
During this session, we saw Brad Anderson show the Microsoft 365 Admin Center! https://admin.microsoft.com gives you all the management within Microsoft 365, no longer go to protection.office.com, security.microsoft.com, compliance.microsoft.com etc. It looks promising.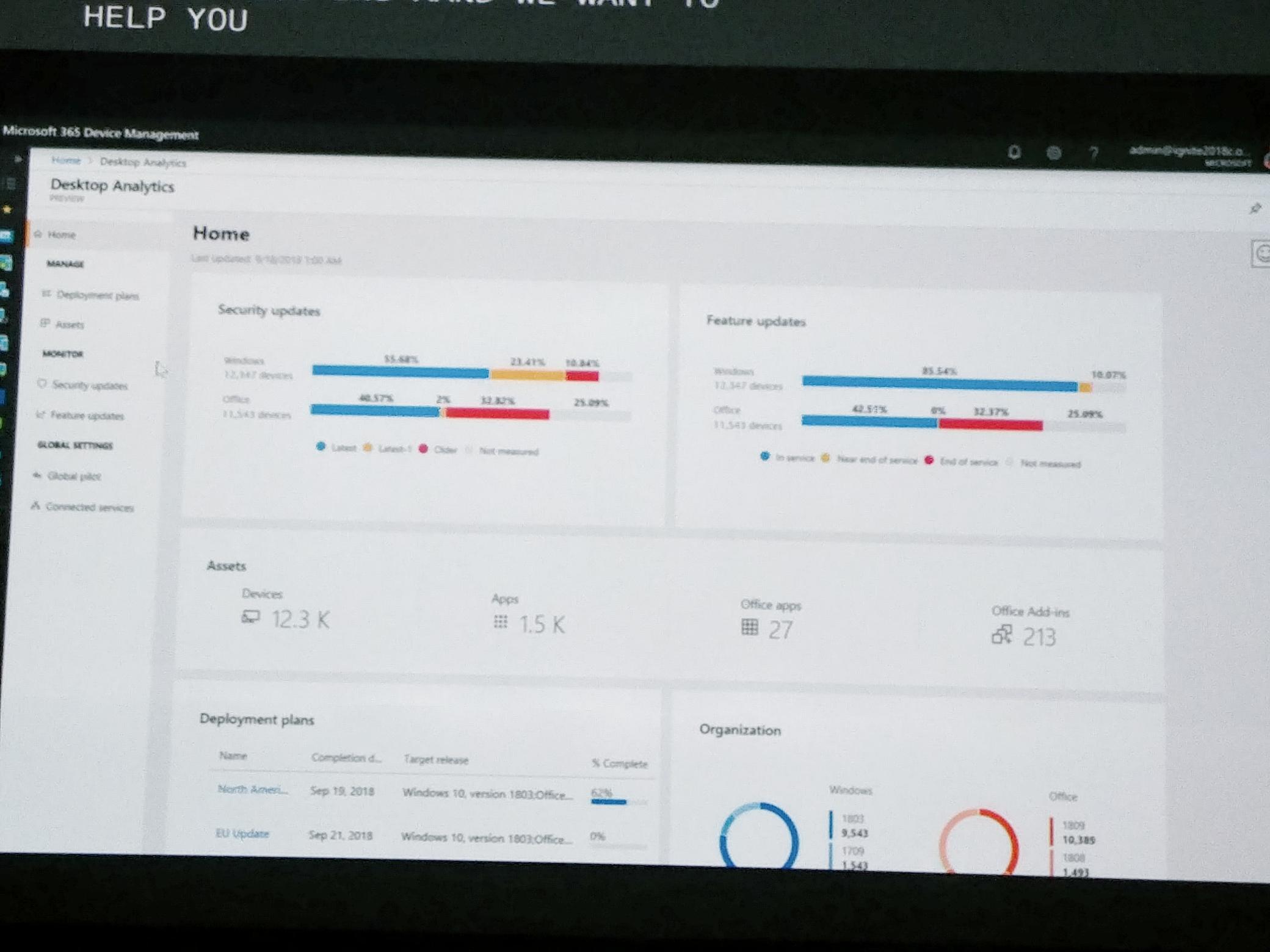 Windows 10 Virtual Desktop
So many have waited for this (and we still have to wait a bit longer because the public preview will come end of this year), but it's officially announced, the Windows 10 Virtual Desktop! No more planning, deploying, updating etc. It's all managed by Microsoft. And the Virtual Desktops has built-in security and compliance.
As I mentioned, the public preview is available later this year, but it's possible to join the public preview now by registering.
What happened with RDMI?
Well, not sure to be honest. No one mentioned it @Ignite, it looks like RDMI is now called Windows Virtual Desktops.
UPDATE: It is confirmed at Ignite 2018 that RDMI is now Windows Virtual Desktop.
Advanced Threat Protection for MySQL
Advanced Threat Protection for MySQL is out! Configure it using the Azure Portal, check here for detailed information:
https://azure.microsoft.com/en-us/blog/advanced-threat-protection-for-azure-database-for-mysql-in-preview/
Whats new in OME and AIP
100 million users are using OME since they announced it a year ago. We (@Sigmax) have used it a lot for our customers and a lack of functionality is the integration with Data Loss Prevention. But not anymore! It's fully integrated. Also, we have OME reporting now. We can check the encrypted emails sent and also revoke an encrypted email finally! Another great feature is that we can now further customize the encrypted e-mail.
Integrate Teams with a SharePoint library
If you have implemented the SharePoint philosophy and you start using Teams, well, that philosophy is turned up-side-down inevitably because you have no control where Teams stores your data. Not anymore! You can now integrate a SharePoint library with Microsoft Teams.
Microsoft Threat Protection announced
Before, we had Windows ATP, Azure ATP and Office ATP. Now we have it all together in one product: Microsoft Threat Protection (looks like we need to go to https://security.microsoft.com, in contrast what was announced in the Microsoft 365 admin center but we will see).
Microsoft Information Protection
We no longer have Azure Information Protection, but Microsoft Information Protection. The great thing is that we now have a unified way of labeling. We can use the same labels for Office Message Encryption and Data Loss Prevention which is great.
Labeling is now also available in Office for mac!
Microsoft Secure Score
Now integrated with Office 365 and EMS! If you were using it before, you will now see a lot more scores. Go to https://securescore.microsoft.com/ to check your security score!